We are pleased to announce the winner of the first ever Obi Bun Kenobi Programming contest is:  
Team LaBot (Lindy Zhai, Serena Liu and Amily Wu).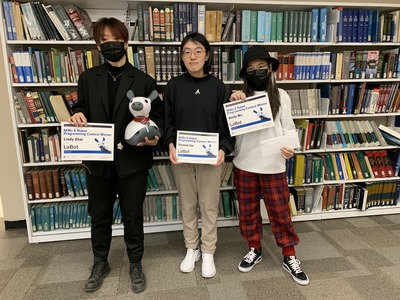 Using the MiRoCODE simulator, Team LaBot created an inspiring 2-minute interactive program that would allow the Engineering & Computer Science Library's social robot Obi Bun Kenobi to benefit our library users! You can see their program in action on our YouTube channel in LaBot's wonderful MiRoCODE simulation video! 
Congratulations Team LaBot! 
Our judges were impressed with all entries this year but wanted to give a shout out to three teams that they felt deserved an hounourable mention: