Accessibility Services
While the library strives to be a universally accessible experience for all users, we recognize that there are barriers and acknowledge that alternative arrangements may be required for some users.
The Library Accessibility Office can help you with accessing our collections or discovering what assistive technologies and alternate format services are available. Contact us at the Library Accessibility Office to discuss how we can best support you.
If you need direct assistance from the Engineering & Computer Science Library or have questions about how to access our specific spaces or services, please contact us:
telephone: 416-978-6494
in-person at the circulation desk
Other Library Services:
Scan & Deliver: students, staff, and faculty, can request scans of print articles via LibrarySearch (the library catalogue). Scanned articles will be delivered via email.
Holds and Requests for Pick Up: students, staff, and faculty can request items for pick up. Staff will find the item for you and will place them at the Circulation Desk for pick up.
Accessible Entrance
The accessible entrance to the Sandford Fleming building is located on the North side of the building opposite the Convocation Hall on Galbraith Road. This entrance and ramp will take you into the building. From there go to the south side of the building to take the elevator to the second floor to room 2402.
If you need assistance with the main door, please contact the circulation desk at 416-978-6494.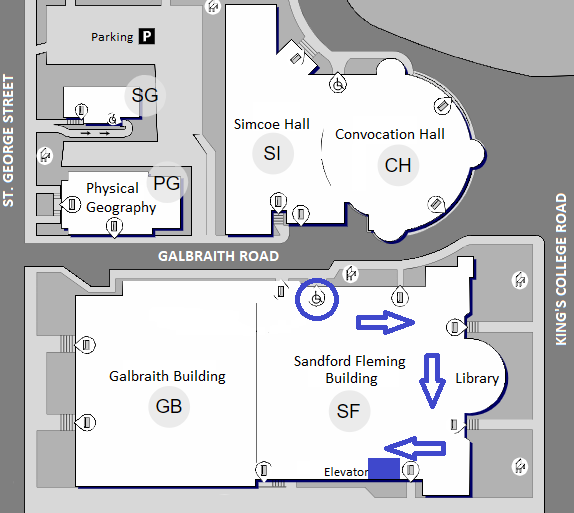 Accessing the 2nd Floor
The second floor is wheelchair accessible via an external door and ramp through the journal room. This door needs to be unlocked by a staff member. For wheelchair accessibility to the second floor, please call the circulation desk at 416-978-6494 or visit the desk in person. 
Study Spaces
The library has 2 dedicated adjustable work tables/desks on the main floor. For individual study, there are two adjustable carrells in the quiet study/journal room on the 2nd floor.
Washrooms
Washrooms are located just outside the library. Both the women's and men's washrooms have accessible stalls.